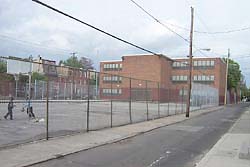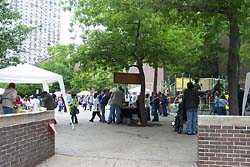 The playgrounds of two public elementary schools, less than a mile apart. One is a park-like setting that includes trees and climbing equipment for younger children. The other is a barren asphalt lot whose cyclone fence boundary is as much as eight feet high in places. Click on either photo for enlargment. (Photos taken same afternoon.)
A tale of two playgrounds
There are dozens of excellent reasons that parents in our neighborhood fight like demons for their kids to get sent to the Albert M. Greenfield School (top right) rather than the nearby Chester A. Arthur School (top left).
These two photos show one enormous difference, one that has benefits for both the students and for the surrounding community.
The playground at Chester A. Arthur Elementary School, 20th and Catharine Streets (left) is a barren concrete lot whose sole amenities are four basketball hoops and a dumpster. Surrounded by cyclone fence on three sides, it lacks only the concertina wire and guard tower to make it look just like a prison exercise yard.
The playground at Albert M. Greenfield Elementary School, 22th and Chestnut Streets, is surrounded only by a low wall, although a second playground, within this one, is also fenced. Trees grow in generous openings inside a playground area that also includes jungle-jim equipment and a slide, with special resilient paving to cushion the children from rough landings.
So what's the difference here? A big part of it is the active parents' association at Greenfield. The photo above right was taken at its annual fund-raising event, and shows a lot of activity -- but on any day when the weather is good, children can be seen working off youthful energy on the playground while the parents chat with one another, sitting on the sidelines on the low brick wall.
What can we as a community do to make certain that the three schools in our area are equally supported by proud parents, neighbors, and area businesses? Playgrounds like Greenfield's don't just benefit the children -- they improve the look of the neighborhood, encourage parents to congregate after school and get to know one another, and help to increase property values. But the neighborhood has to value such a space enough to work to get it, and to keep it free from trash, graffiti, vandals and lurkers once it's built.
We deserve schools that don't look like prisons. And we can get them if we try.