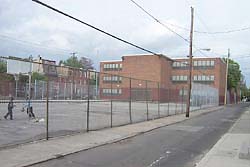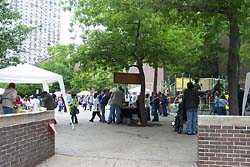 The playgrounds of two public elementary schools, less than a mile apart. One is a park-like setting that includes trees and climbing equipment for younger children. The other is a barren asphalt lot whose cyclone fence boundary is as much as eight feet high in places. Click on either photo for enlargment.
A tale of two playgrounds--a Greenfield parent's comment
Greenfield is a public school success story, and, while it may have gotten "special attention" when it was established, these days it's the parents group that makes the difference.
Parents on the Enrichment committee regularly write grant proposals to bring extra programming to the school (got a $15,000 matching grant from the PA Council on the Arts this year and managed to raise the match!), then parents volunteer to facilitate and monitor these programs (not to mention putting heavy pressure on the teachers to take advantage of them!). Parents on the Beautification committee have annual clean-up events which include painting etc. One parent has made it his personal mission to pick up all the trash on the playground on a daily basis.
Parent-organized fundraisers include the "Spring Fair" (which you photographed), a candy sale, a silent auction, a Scholastics Book Fair, a Flea Market, Home & School membership drive (where dues can be paid in volunteer service hours or cash), and sales at the "Greenfield School Store."
All this takes lots of committed parents (and community members who also volunteer) -- many of whom work on at least a part-time basis. It is really amazing how much time and energy people can find when they feel the cause is worthwhile. I think one of the changes that needs to happen is that the community needs to feel that its schools are worthwhile causes. Interestingly, Greenfield's principal and teachers are not always happy about the parents -- we pester them, we pressure them, we force them to do
their jobs better, we generally use the "squeaky wheel method" to annoy them until we get our way. But, we have a much better school for our kids and -- whether the administrators and teachers admit it or not -- they have a much better working environment, and the community has a valuable resource.
And that's my 2 cents!