Plant Rescue March/April 2005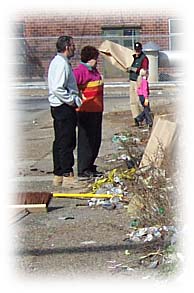 In anticipation of the destruction of the community garden at 20th & Catharine by the real estate developers who purchased the land, a group of volunteers, led by SOSNA board members Ann Hoskins-Brown and John McHugh and 20th & Catharine gardener Laura Blanchard, have secured permission to relocate plants at the corner of Carpenter and Gray's Ferry while SOSNA and other stakeholders explore the possibility of greenspace in our community. (Photo, right: Ann and John survey the challenge.)
The first of two phases, site clearing, took place Saturday, March 26. The team has decided to re-site the plants on part of the lot where they are sure there will be no development-related activity. Photos from the three-hour work session are shown below.
The second phase: moving plants, took place the weekends of April 2 and April 9, with additional plants to be rescued as time permits. Photos of the "rescue beds," April 14, are also shown below.
Photos: March 26

The site. Some of the space facing Gray's Ferry Avenue (to the right) is privately owned. The team decided to clean most of the area of trash and weeds before digging any planting beds. There is a curved lane across the site, which neighbors use for parking and turning vehicles, and no attempt to change this use pattern is planned at this time.

Step 1: Cleanup! Although this part of the site is not going to be used for plant rescue, the team decided that a cleanup would lift the spirits of the gardeners and the neighborhood.

Planting site. This area (behind the dirt lane), despite being in partial shadow from the Pawlonia tree to the right, will receive sun for a good part of the day and is comfortably out of range of any construction equipment that might show up to develop the Gray's Ferry Avenue site.

The rescue beds. The plants to be rescued consist mostly of perennials plus eight or ten rosebushes or shrubs and two or three Arbor Day Foundation sapling trees. Working with pick and shovel, the rescuers dug shallow beds (about 6 inches deep) and bordered them with bricks, rocks, and chunks of concrete. The impoverished soil will be enriched with compost from the community garden and/or the city recycling center, creating raised beds. The team plans to dig somewhat deeper within the beds in the spots where shrubs are to be located.

The product. Bags and bags and bags of trash and weeds. Note hydrant in foreground -- the team hopes that this will be its water source.
A vote of thanks to the people who came out on Easter weekend with less than 48 hours' notice for the March 26 rescue: Roy Blanchard, Greg Brown, Sara Charlotte Brown, Lori Hayman, Ann Hoskins Brown, John McHugh, Larry Shaeffer and Mei-Ling. Photos and text by Laura Blanchard.
---
Photos -- April 14

Rescue beds. The team dug deep to rescue the seedling callery pears in the rear bed. Also included: a double-flowered Rose of Sharon, a forsythia, and several lilacs that had crept out from the main plant. Interspersed are German bearded iris, columbines, and other perennials. (Below: more rescue bed photos.)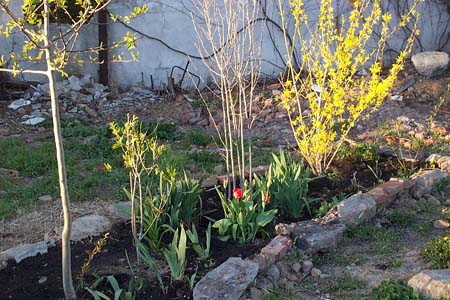 Daylily rescue by Laura Blanchard and Ann Hoskins-Brown with assistance from Sara Charlotte Brown. Tree and shrub rescue by Ann Hoskins-Brown, Greg Brown, Sara Charlotte Brown, John McHugh, and Lisa Parsley.