About our block (as of approximately 2005):
Filming
The Sixth Sense
October 1998
The 2000 block of Christian Street, like most of the surrounding neighborhood, was developed shortly after the Civil War in response to the southwestern expansion of the City of Philadelphia. Its three-story brick row houses are typical of the architecture of the period. It was chosen by director M. Night Shyamalan for a pivotal scene in the motion picture The Sixth Sense because of its haunting beauty.
St. Charles Borromeo Roman Catholic Church and neighboring houses
Architecturally and culturally, the block is dominated by its two churches. St. Charles Borromeo (founded July 4, 1868) is on the southwestern corner of the 20th and Christian Street intersection; its school and community roller rink are on the northwestern corner, with a community center, now home to Catholic Social Services' St. Charles Senior Center, at 1941 Christian Street. Shiloh Baptist Church, 21st and Christian Streets, occupies a building formerly housing the Episcopalian Church of the Apostles, one of the first commissions of the architectural firm of Furness & Hewitt. Its church yard also contains one of the city's very few surviving American elms. Both churches are architecturally noteworthy, and have active community outreach programs.
The block is located in the 17th Police District and the 30th Ward. Demographically, the block is undergoing rapid change. Until recently, more than half its housing stock contained low- and moderate-income apartments. Today, these apartments are being converted to condominiums. There are still some half a dozen single family houses.
Shiloh Baptist Church
and American elm
IUnlike other blocks in the neighborhood, there are no abandoned houses and no vacant lots. With the exception of new construction for the roller rink on the northeast corner (1960s) and the one commercial enterprise, the street probably looks very much as it did in the nineteenth century.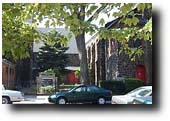 Shiloh's churchyard, seen here from the front steps of 2043 Christian Street, provides a green oasis at the western end of the block
There is one commercial enterprise in a building that formerly housed an auto-repair facility; it is now a food cart enterprise. Its owners are quiet and considerate corporate neighbors. Three or four of the buildings on the north side appear to have originally been storefronts, suggesting that this was once a small commercial district for the immediate area. The building on the corner opposite Shiloh Baptist Church was reportedly a funeral home before being converted to a rooming house; its new owner has been working diligently to restore it.
The block is quite close to the local public elementary school (Chester A. Arthur, at 2000 Catharine Street), which has just completed a transition to a K-8 school..
Shopping
Although there are no retail establishments on the block itself, neighboring businesses include:
Christian Street Pharmacy, 1947 Christian Street
South Square Pizza, 20th and Montrose Streets
19th Street, Christian to Montrose: take-out Chinese food, variety store, dry cleaner's
There is a significant community shopping district four blocks north and one block west, in the 2200 block of South Street and its neighboring blocks. This district includes a supermarket, dry cleaner's, shoe repair facility, bicycle shop, hardware store, realtor, MAB paint store, butcher, florist, and oriental carpet sales and repair facility. It also includes several restaurants, including the well-known Mai Thai at 22nd and South, L2 (American bistro), The Ants Pants cafe, and Chinese, barbecue, and pizza/sub shops (Omega Pizza, 22nd and South, also sells take-out beer).
Two relatively new eating venues have been established in the 2300 block of Gray's Ferry Avenue, just south of South Street; Grace's Tavern and the Balkan Express BYOB. Anothernew restaurant/tavern, Ten Stone, at 21st and South has become popular with a broad cross-section of the community for its unpretentious but pleasant ambience and moderately-priced sandwich and salad menu, and a coffee shop, La Va, at the opposite corner, has gained popularity as well. More recently, two establishments have opened on the 22nd Stret corridor: The Sidecar, at 22nd and Christian, a bar and grille owned by residents of our block; and Divan, at 22nd and Carpenter, a Turkish restaurant. Other additions to the neighborhood include the Beauty Shop Cafe, 20th and Fitzwater Street, and Yello'bar, Grays Ferry Avenue and Catharine Street.
This shopping area serves both our neighborhood and the more affluent Fitler Square neighborhood to our north. Additional restaurants and shopping can be found just north of South Street as well as further east along the South Street corridor.
Transportation
The block is served by the #64 bus (West Philadelphia to the Wal-Mart complex via Washington Avenue, two blocks to the south) and the #17 Bus (Navy Yard to Penn's Landing via 19/20 Streets and Market Street). These two bus routes provide direct public transportation access to several shopping areas and cultural attractions including:
17 Bus: Philadelphia Naval Business Center; 20th & Oregon shops; Liberty Place; City Hall; Reading Terminal Market; Suburban Station and Market East Station (regional rail with connections to Amtrak); The Gallery; Independence National Park; Penn's Landing. Runs every five to seven minutes during the day.
64 Bus: Mann Music Center; University of Pennsylvania; Washington Avenue; Penns Landing (southern end); UA Riverview multiplex; Pier 70 (Wal*Mart, Superfresh, Home Depot, Old Navy, more.) Runs every 10-12 minutes during rush hour; every 20-30 minutes rest of day. Consult website for schedule.
From the block it is an eight-mile, fifteen-minute, twenty-dollar cab ride to the Philadelphia International Airport. It's also a 20-minute walk to the University City train station, where travelers can take the train to the airport for $5.
Quality of Life
The block itself is comparatively quiet and safe, with no unsupervised small children and no corner "hanging out" activity, and the 20th and Christian Street bus stop is generally well-populated and safe. There are fewer break-ins on the block, either to houses or to automobiles, than in many more affluent areas. However, like many blocks in the Southwestern Center City area, it is in close proximity to some genuinely blighted areas, where litter, drugs, gambling and other activities are all too present, although the incidence of violent crime has dropped considerably since the summer of 2000.