Welcome to Southwest Center City!

Southwest Center City - an exciting place to call home.
THIS SITE IS NO LONGER THE PLACE TO BE FOR NEIGHBORHOOD NEWS
Visit the SOSNA website instead, or check into the Southwest Center City group on Facebook.
The neighborhood from Broad Street to the Schuylkill River, South Street to Washington Avenue is rich in history, architectural landmarks and charming nineteenth-century rowhouses. A transitional area between Center City and South Philadelphia, it is home to several community service organizations, many churches, retail establishments and light industry.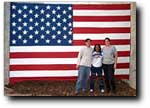 2001 Clean Block competition, 2100 block of Catharine Street
What happened to the South Philadelphia Blocks Association [SPBA] site?
The South Philadelphia Blocks Association site has changed its name and its mission and is now concentrating on areas south of Washington Avenue.
SOSNA, the South of South Neighborhood Association, has its own website. Visit SOSNA on the web at http://www.southofsouth.org/